Shaun Khojayan Client Testimonials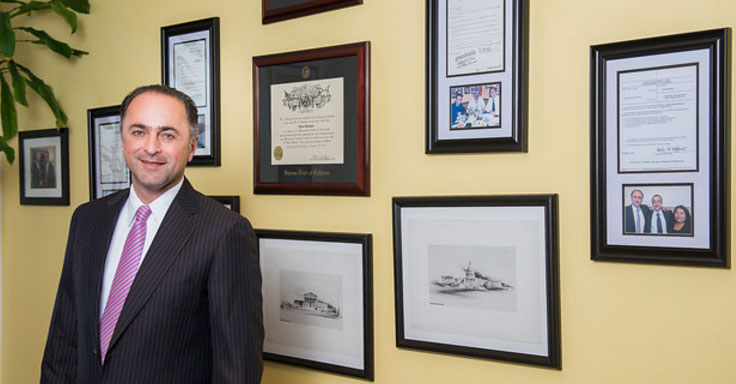 Write a Review on AVVO! • See Testimonials on AVVO.
Highly Intelligent and Top Notch
Posted by anonymous, April 6, 2017
Shaun Khojayan and his team have been life savers. I have been faced with the most stressful 16 months of my life dealing with a felony case against me. My case is beyond complicated and complex. I had 2 previous attorneys working on it, but the universe and my gut instinct told me I needed a TOP notch attorney to really dissect my case and figure it out . After not getting the answers I needed from my previous attorneys I found Shuan, during our consultation he spent two hours with me discussing the case, before I ever even hired him. he honestly answered more of my answers in two hours then anyone did in the 16 months and I have been dealing with this . I knew then Shaun and his team where who I needed by my side during these bumpy roads in my life. trust me I had called over 20 criminal defense attorneys and was not happy with the answers I was getting until I came across Shuan. no one seemed to understand how complicated my situation was with this case. Shsun and his team are so intelligent they were finally able to figure out my case and what we needed to do to try to move forward in a positive direction . I highly reccomend Shuan and Aleen Balabanian to anyone out there facing charges against them . between the two of them they are a wonderful team that have made my stress levels subside and who I feel genuinely do care about their clients . I feel very blessed to have been led in the direction of this team to help me . Thank You
Exceptional Lawyer
Posted by Sergio, August 12, 2016
Shaun Khojayan did an amazing job representing me in my federal case. His professionalism demonstrates that he is a well prepared attorney. In addition, he also cares for his clients. I am very grateful for Shaun and his assistant Gracie; they made us feel we were in great hands. They were always available to answer any questions or concerns. The result of the case was superior than was expected due to his expertise. I strongly recommend him! He is the best attorney you can have. We are very thankful.
Shaun Khojayan's response: "Thank you very much, Sergio. I was pleased to represent you and get a dismissal of all charges! Best of luck to you and your family."
Best Federal Defense Attorney
Posted by Frank and Maria, February 25, 2016
Shaun Khojayan represented our son in a complicated federal case. He was a great attorney always willing to answer any questions and give us advice about the case at any time. The outcome of the case was greater than expected due to his experience and knowledge. We highly recommend him. He is the best attorney you can have.
Shaun Khojayan's response: "Thank you. It was my honor representing your son and helping him through this situation. Please call me any time."
Awesome Lawyer and Staff
Posted by Alex, April 8, 2015
I'm going to try to keep this short. I really owe Shaun and his assistant Gracie a lot more than a review. They really help me with my legal situation–not only did he and his staff work their butts off for my case but he really went above when he found a great i.n.s attorney. Very knowledgeable, friendly, caring and most important hard working.
The BEST There Is
Posted by Nikki, August 26, 2014
Shaun Khojayan and Associates is the BEST firm out there!! Shaun did an amazing job representing my brother in a high profile federal case and the charges against him were devastating. What appeared to be a long drawn out hopeless situation, Shaun was able to use, not only his expertise for the facts of our case, but more importantly, his genuine care to see the BEST OUTCOME for our situation. There was NEVER a delay in his response to a question and he was always an email or phone call away. If you are seeking attorney services with the highest levels of professionalism and care, Shaun and his team can provide for you exactly what you need. You will not be disappointed!
Helpful Attorney
Posted by an Insurance client, August 25, 2014
Shaun Khojayan was a very helpful attorney on my insurance case. I was referred to him by a colleague. At the time I was living in San Diego, and he was handling cases in all of Southern California. He was very thorough, patient and knowledgeable. I would refer him to family and friends in the future.
Exceptional Legal Practitioner
Posted by Howard, August 21, 2014
My name is Howard E. I am a Private Investigator and have had the distinct privilege of working with Shaun for over 9 years on many criminal defense cases. Shaun is an exceptionally knowledgeable attorney and a talented trial advocate. He works diligently for clients and gets his clients great results. I highly recommend Shaun for any criminal defense matter.
Outstanding criminal defense trial lawyer
Posted by Richard, July 26, 2014
My name is Richard Lichten. I am a retired law enforcement official who now consults and provides expert witness services to law firms, public agencies, and the media in criminal and civil cases. Mr. Shaun Khojayan had me appointed by the federal court to assist him with a felony criminal defense case involving prison inmates who allegedly attacked a prison guard. I have worked with hundreds of lawyers. I tell you without hesitation that Mr. Khojayan worked very diligently on his client's defense. No shortcuts were taken. Mr. Khojayan did not just go through the motions; he took a personal interest in this case and worked many long hours. I know he worked long hours because I remember him calling me well after hours to discuss the case. Mr. Khojayan and I traveled a long distance to personally interview the defendant inmate. I was impressed by the way Mr. Khojayan interviewed the defendant. Based in large part on Mr. Khojayan's method of pulling out the smallest detail from the defendant, I was able to use that information when I provided expert testimony at trial. I also want to say that Mr. Khojayan took the time to not only take all of my calls; he took the time to meet with me a number of times for trial preparation. Mr. Khojayan has my highest recommendation to anyone in need of a serious criminal defense trial lawyer.
Simply the best
Posted by Jane, July 24, 2014
After a great deal of research, I was introduced to Shaun Khoyayan……which I count as one of the best things that has happened to me. At a time when I was very frightened of what was going to happen, Shaun took the time to put me at ease. He never told me anything that did not prove out to be truthful and he went above and beyond to make sure that all resources were brought to bear to achieve the best possible outcome. I could not have had better representation. I would recommend him to anyone in need of attorney services.
ATTENTTIVE, PRO-ACTIVE, RESPONSIVE
Posted by CT, July 23, 2014
Shaun was very instrumental in helping resolve my case. I needed to travel extensively for business and was hindered by the approval process requirements of probation. He actively worked in a timely manner to have my probation discharged after 6 months to give me the ability to travel for business. Within 3 weeks of working with Shaun, my case was resolved. I highly recommend him–attentive, responsive & a proactive advocate.
Drug Trafficking and Money Laundering Federal Case
Posted by Vilma Diaz, May 14, 2013
I will highly recommend lawyer Khojayan to anyone that I know or is in need of legal defense. He and his staff are very professional and will do anything to help you with your situation. He is a fighter and cares about his clients. He responds right away to any question you may have. He will visit your loved one in prison and work with them very closely. He is an amazing professional and person. I am grateful that he was assigned to my son's case. We are so blessed to have him defending my son. My son was involved in drug trafficking and money laundering and Mr. Khojayan defended my son and my son did not do additional time in prison.
Got the job done!
Posted by Eva R, May 13, 2013
Attorney Khojayan made us feel we were in great hands! His professionalism along with his humbleness showed us that not only was he a well prepared attorney but he also cared for his clients. I strongly recommend Attorney Khojayan!